Through the year in GB - 2nd Quarter
April
Easter
Easter starts in Great Britain, like everywhere else, with Palm Sunday, followed by the Easter week. From a less religious view with a short working week, but not necessarily, because different from Germany, where the Good Friday is one of the highest church holidays with loads of restrictions, it can happen that you have to work on that day, but therefore the following Tuesday is off.
The German "green" thursday is called Maundy Thursday in Britain. It is a tradition that the reigning monarch gives out "Maundy Money" to honourable citizens as a gift from the royal dynasty. Every recipient gets as much pence as the monarch is aged in years, meaning in 2008 Queen Elizabeth II is 82 years old, so she hands out 82 pence to each of these chosen citizens.
The coins are valid money, but nobody will get the idea to spend them in the supermarket - they are dedicated mints which can not be obtained in any other way, and of course that makes them highly-sought collectibles. By the way, the money is handed over in a red and white purse - the traditional English colours.
A today less practised Easter tradition is the Easter Bonnet Competition, where self-built hats in easterly decoration compete against each other. There are normally three groups: men, women and children.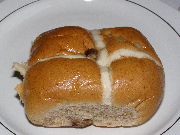 The traditional food in Easter time are Hot Crossed Buns, sweet spiced rolls with a sugar-cross on top. Another traditional sweet is the Simnel Cake, a fruitcake with marzipan-filling and -decoration (eggs, bunnies etc.) on top.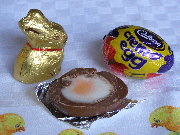 Of course there is also lots of chocolate at Easter time in Great Britain. These days you can buy e.g. Lindt bunnies and eggs, but this is a new development, since the normal british Easter present is a big chocolate egg, about 20 cm (8 inches), hollow and sometimes filled with other sweets. It is not surprising that the industry has adjusted to that, that is why you can buy Mars, KitKat- and Cadbury eggs (and many more) ready in a giftbox, which are filled with the respective products. But you can still get the normal plain egg, and as a little extra you can have a name or a greeting "engraved" with icing on top of the egg.
A funny Easter speciality are Cadbury's Creme Eggs. These are somewhat smaller than chicken eggs, consist of a rather thick chocolate mantle and the named creme-filling, which is white but also has a yellow "yolk". The specific consistency makes is a bit difficult to eat, but that is actually the fun of it. The commercial slogan "how do you eat yours?" is well understood once you tried one.
The Boat Race
The title already suggests that this not not some boat race but THE boat race. Of course it is the "eight oars with cox" duel of the the two top-university teams from Oxford and Cambridge, which is held around Easter every year since 1829. The venue is the Thames river in London, where the start is at Putney bridge, and runs upstream over 4 miles to Chiswick bridge. Today this race is of course a media event which is broadcasted live on TV - here in Germany on "Eurosport".
If you watch the race on TV you will notice that there is talk about "Surrey" and "Middlesex", which means the southern and the northern bank of the Thames. From there you can recognise the boats by their colour: Oxford's is navy and Cambridge turquoise. Wearing these colours is a big honour, for which has to be worked hard.The trainining session actually starts in September, and if the camera is at the right angle you can see on the faces that these 6,7 km (4 m 374 y) are no walk in the park whatsoever. In any case there are celebrations afterwards: the winners celebrate their victory and the losers comfort themselves with their fellow students, since there is always next year.
Queen Elizabeth's Birthday
Queen Elizabeth II was born April 21st 1926. This day is normally only recognised on round birthdays like the 80th. Otherwise it is officially celebrated on a Saturday in June, since the weather is generally better. So the Queen has another privilege: she can celebrate twice a year.
St. George's Day
Saint George is the patron saint of England, and St. George's day on the 23rd of April is somewhat like a national holiday - if there was something like that. The St. George's Cross (red cross on white ground) also forms the English flag, which in Germany is most likely to be seen in a football match of the English team.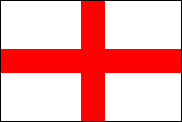 St. George never set a foot on British soil, he lived around 300 and was a Roman soldier, until he was ordered to persecute Christians and refused, since he was Christian as well. Hence he was tortured himself and eventually killed, that's how he became a martyr. In the medieval time also a legend was created that he killed a dragon, most illustrations show in on horseback fighting with the dragon.
There are a few celebrations on this day, like a big parade in Morley, Yorkshire. But this is rather the exception, generally the day is noticed, no doubt, but also the attention turns back soon to everyday life items.
St. George is by the way not only honored in England, the former Soviet Republic of Georgia is named after him, where the St. George's Cross is also the main part of the flag. But you don't have to drive that far, since the St. George's Cross is e.g. also found in the code of arms of Freiburg.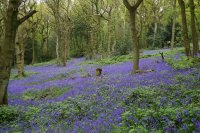 Bluebells
From the end of April on you can see a natural phenomenon on Great Britain that is rarely known in Germany - the blossom of the Bluebells. Botanically they are hyazinths, and on their own they are rather unimpressive. The beauty lies in the fact that these plants are blooming in such big numbers that they form a blue carpet in the forests - they are only found in old woods. The blue colour has a shimmering Effekt, like a blue smoke that is almost blinding. This colour-impression is difficult to photograph, you can just an idea from the pictures.
Mai
May Bank Holiday
May is a beautiful time in Great Britain - not only spring is coming to the country, there are two holidays thrown in as well. The first and last Monday in the month are "bank holidays" and therefore bestow two long weekends to the working people. These are happily made use of, since people don't get as many holidays as in Germany. People are "out and about", make short trips or visit one of the vast number of events at these weekends.
Originally the traditional May holiday is on the 1st, where a "Maypole" is erected (corresponding to the German "May Tree"), and spring is greeted with singing and dancing. But the Brits are more pragmatic on these things, it's just shifted to the Bank holiday weekend.
Well Dressing in Derbyshire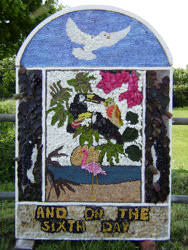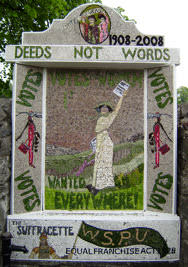 Well Dressing is a very old custom which is almost exclusively found in Derbyshire. It is not about fine clothing, as you could guess from bad translation, but decoration of water wells. For this a wooden frame is produced which is filled with clay, and then with the help of a drawn template the motive is created with natural materials such as blossoms, gravel, egg shells etc., the picture is then put up at the well. Since lots of plant materials are used these pictures perish quite quickly, therefore a well dressing never lasts longer than a week or so.
The pictures show religious as well as mundane motives, a lot of them with local references. The custom honours the fact that without water life is not possible. It probably has pagan origins.
The oldest and best known Well Dressing is held on Ascension weekend in Tissington, where 5 wells and a children's well are decorated. But the other towns and villages are no inferior to that, and until September you can visit at least one Well Dressing somewhere in Derbyshire on nearly every weekend.
June
Official Birthday of the Queen
The official birthday of the queen is celebrated on the 2nd Saturday in June with the "Trooping of the Colours", a military parade on the Horse Guard Parade at the eastern end of the St. James Park in London. It is well-known for the soldiers in red uniforms and black bearskin hats, who retain their miltary composure in every weather. The queen is attending in a carriage (in younger years she used to do it on horseback), and after the ceremony she shows herself and the royal family on the balcony of Buckingham Palace.
Wrong Trousers Day
Representative for all charity events the Wrong Trouser's Day may be mentioned here. It is named after a Wallace and Gromit short film, and the idea is that you buy yourself free for 1 Pound (or more) from the obligation to wear proper trousers. Most people wear pyjama trousers and look like Obelix, and the money is donated to aid sick children. It runs along the line "doing something good while having fun", like for example on Red Nose Day.
Wimbledon
The most renown Tennis tournament in the world is held every year in June, and it is not only known for top sport, but also for quite expensive strawberry and cream - if you want to be there you can't be stingy. From a sport's point of view the speciality is the lawn, and at least since Boris Becker's first win everybody in Germany knows Wimbledon.